Ampliar
Film critics Angela Covo and Dennis Ayotte, Jr. bring you the truth about Hollywood's current offerings every week. Look for their reviews at www.laprensasa.com whenever you need to know more about the latest films. This week, Covo and Ayotte split up to share reviews on two award-winning indies: Covo covers "Hermano" and Ayotte covers "Killer Joe" which opens the Bijou Aug. 24. Check back next week to read what the two movie critics have to say "Sironia" and stay tuned for more exclusive intervies. Covo brings you an exclusive interview with Michelle Rodriguez (Resident Evil) and Ayotte will be chatting with one of our favorites, Michael Pena. Other movies opening at the theater this weekend include "Hit and Run," "Premium Rush" and "Obama 2016."
San Antonio.- Film critics Angela Covo and Dennis Ayotte, Jr. bring you the truth about Hollywood's current offerings every week. Look for their reviews at www.laprensasa.com whenever you need to know more about the latest films. This week, Covo and Ayotte split up to share reviews on two award-winning indies: Covo covers "Hermano" and Ayotte covers "Killer Joe" which opens the Bijou Aug. 24. Check back next week to read what the two movie critics have to say "Sironia" and stay tuned for more exclusive intervies. Covo brings you an exclusive interview with Michelle Rodriguez (Resident Evil) and Ayotte will be chatting with one of our favorites, Michael Pena. Other movies opening at the theater this weekend include "Hit and Run," "Premium Rush" and "Obama 2016."
By Angela Covo and Dennis Ayotte, Jr.
angela.covo@gmail.com and dennisayottejr@gmail.com
THE NEW COVO & AYOTTE GUIDE:
INSTANT CLASSIC! FIVE STARS
DON'T MISS! FOUR STARS
DON'T WAIT! THREE STARS
DON'T RUSH! TWO STARS
DON'T BOTHER! ONE STAR
Covo's take: "Hermano" 4.5 stars
I never knew soccer could be so exciting. This Venezuelan gem is in Spanish with English subtitles, but you will get so wrapped up in the powerful storytelling, you won't notice. And I won't spoil a thing for you in this review, so you can appreciate it as much as I did.
I was taught ages ago that the best movies tell stories, and this film does so magnificently. From the first frame to the last, the audience is caught up in the moment – director Marcel Rasquin moves the story right along and your emotions along with it.
This film just missed the C&A Instant Classic rating because I found the cinematography a little rough here and there, an effect some might like, but which I found a little distracting.
Other than that, the story, the acting, the setting, the trajectory … and the ending were all perfect and will leave its mark. This is one a film that will affect you for days and will provoke discussion, a film that does everything a film should do.
The well written script opens the door on the brothers, Daniel (Fernando Moreno) and Julio (Eliu Armas), in the most unusual way. And then they are happy together in the slums of Venezuela. The brothers grow up to be very close - hermanos - and play soccer on the neighborhood team.
The striking visuals of the Venezuelan slum bring the viewer right into the thick of it – a different world, but also a real world. And for Americans living in the USA, a little difficult to fathom- But Rasquin proves to be an extraordinary director, and takes us there.
Every performance is spot-on; the screenplay is rich with a strong plot and great character development. Not sure exactly when this one is scheduled to open in the Alamo City—but when it does, don't miss it.
The 97-minute film is not yet rated and opens this weekend … in Los Angeles and in select theaters in San Antonio. But this film os so good, I suspect a wider release will be coming soon.
Oh, and about "Killer Joe"? It's a shock to the senses ... read on: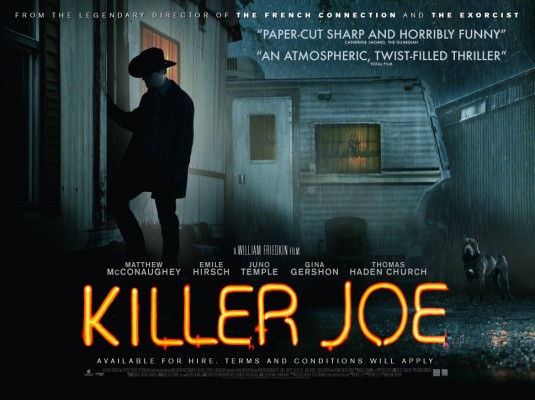 Ayotte's take: "Killer Joe" 4 stars
"Killer Joe" is not for the average moviegoer, but it's perfect for any true film buff. This film has it all—a great cast, drama, suspense, sex and death.
William Friedkin's latest film has a little bit of a Quentin Tarantino vibe in the sense of it has that grind house edge that exudes an awkwardness that is undeniable. When you leave the theater it's almost like you need to take a shower or feel guilty because you just watched something you weren't supposed to.
Tracy Letts is partially to blame for this feeling as he wrote the screenplay and the play that ran off-Broadway in 1998, which starred Scott Glenn.
Fast-forward 14 years and Friedkin brings it to life on the big screen along with a NC-17 rating. Don't let the rating deter you from watching this film however. Matthew McConaughey stars as Killer Joe Cooper who is a Dallas Police Department investigator by day and the most sick and twisted hit man by night. His character is hard to understand, but he possesses an eerie calmness that adds to the discomfort of the film as your eyes are glued to the screen.
Emile Hirsch and Juno Temple also star in the film and don't disappoint by any means. Hirsch hires Killer Joe while Temple becomes a victim of the entire circumstance when Joe decides to accept her as his retainer fee. There is something about Temple's character you can't help but love and pity in the film. You can never quite make out if she's mentally handicapped or just smarter than everyone else in the film.
That's the other striking part of this film, you can't distinguish who actually has their stuff together or not because all the characters are uneducated white trash who don't think things through or just plain crazy. Thomas Haden Church plays the dumbest of all the characters in the movie by far. He plays Hirsch and Temple's father and literally he is as dumb as a box of rocks, but it makes his character great to watch.
You get to see a whole lot of Haden's on-screen wife, Gina Gershon, as the opening scene is a huge shot of her lady bits in a shot reminiscent of a 70's porno. Her character is spot-on and the most conniving of them all as you find out when things get really heated and really, really insane at the end.
"Killer Joe" screened at SXSW this year and is the weirdest film I've seen in a while, but it works like a movie palate cleanser after watching so many lame, mainstream, only-produced-to-make-money films this year.
Overall, "Killer Joe" is a "don't miss" film this summer. Enjoy, but be prepared for the unexpected.